Organizations are no longer just local entities with physical offices for employees to gather and work. Many businesses now have multiple locations, not to mention staff members operating remotely. In order to meet these new demands, companies must implement the best strategies to bring these disparate individuals together efficiently and effectively.
Communications systems are critical to bridging the gap between a company and its employees, partners and clients. However, phone calls, text messages and emails aren't always the best means of information sharing. Video conferencing solutions serve a critical role in decreasing the necessary amount of travel and in-person meetings. Let's take a look at the biggest factors that should be considered when choosing video conferencing tools:
1. How many users will it support
When engaging in a video call, who will be expected to participate? During a training session or presentation, all employees might be required to take part. However, in a call with a business partner or specific client, only certain staff members will need to be involved. A video conferencing tool should be able to handle both sides of the capacity spectrum. Flux Magazine noted that you should factor in the number of participants allowable in a group call while also considering future employees as well. This will ensure that the tool scales to hiring projections and accommodates business needs into the future.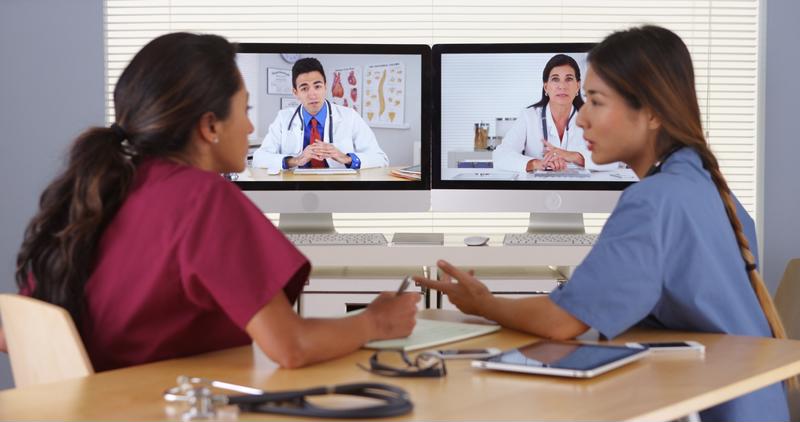 You should also think about the different environments that the video conferencing tool will be acting in. Perhaps a tool will need to be capable of picking up sound in a larger room of participants, or capturing a wider angle. It will also be important to determine if you will be conferencing with one other party at a time or several parties from different locations. These capacity requirements will narrow down your options to the best tool for your team.
2. Can your network support it?
When implementing any tool, it's important to ensure that your network is able to support it appropriately. Upgrading your current system might be required if you're having a hard time finding a solution. Crowd Reviews noted that bandwidth capabilities should also be evaluated as some solutions need faster connection speeds to run smoothly. A video conference in progress can also impact network traffic, potentially interrupting other operations. It will be necessary to verify that additional bandwidth is provisioned to prevent hiccups in existing infrastructures while upholding video conferencing requirements.
3. What devices can it work on?
Staff members no longer operate on standard desktops – they are increasingly looking to use a variety of mobile devices including smartphones, laptops and tablets for work purposes. The problem is that new hardware, operating systems and capabilities are emerging on a constant basis. Information Age suggested ensuring that your video conferencing system supports all varieties of endpoints. Seamless connections will help support clients using different desktops and devices, providing quality interactions.
Beyond user devices, the video conferencing solution might also need to operate with other hardware in a room. For example, organizations might use the system with HD monitors, voice-locating cameras and stereo sound systems. This setup will help provide the best experience for participants, but it's important to make this equipment part of the strategy from the very beginning.
"Video conferencing solutions should integrate with existing unified communication and collaboration systems."
4. Integration with communications suites
By itself, video conferencing serves a specific business need, but it cannot support all organization requirements. Your video conferencing solution should integrate well with existing unified communication and collaboration systems as part of a stronger strategy. Network World contributor Snorre Kjesbu noted that when a communications infrastructure is put together on a piecemeal basis, it can be difficult to get each element to work together. Deploying video conferencing as part of your UC suite will ensure full integration and collaborative operations. This will decrease potential risks and help improve your bottom line.
Video conferencing solutions have a number of critical benefits to offer, but only if you choose the one that is right for your business. By ensuring integration with current communications suites, device usability, network support and participant capacity, you will be able to pick a video conferencing system that meets your needs. For more information on how to use video conferencing in your business, contact Teo Technologies today.