Unified communications are all-too-often assumed to be exclusive to large corporations, but this could not be further from the truth. Ease of deployment, ease of use, cost efficiency and versatility are boons to organizations of any size and in any industry. Contact centers, for example, are strategically leveraging VoIP solutions to give employees the opportunity to work from home. The education sector can use VoIP to enhance communication between teachers, staff and students, especially in large campuses. Even retailers rely on unified communications as a way to improve collaboration between employees in an effort to improve sales.
All of these are valid use cases for unified communications that can improve collaboration, boost productivity and reap substantial return on investment. However, when unified communications are leveraged in a hospital or other health institution, this list of benefits is extended to include the ability to help improve patients' lives.
Keeping doctors connected
The unified communications as a service market is expanding at a compound annual growth rate of around 23.4 percent, according to the latest numbers from Transparency Market Research. This information by itself is not surprising given the well-documented benefits of unified communication. However, TMR lists increasing adoption of unified communications within health care organizations as a primary catalyst for this growth – a detail that further highlights the versatility of modern business communication technology.
Every health care practice needs a way to stay in touch with patients, for scheduled checkups, intermittent diagnostic tests or something else. More often than not, administrative staff rely on telephony and email for communication purposes. A cloud-based VoIP solution would be especially ideal for a smaller clinic. Rapid deployment, affordability and pay-per user model cater the immediate needs of a small medical practice, while also supplying room for growth if needed.
Large practices such as a medical, dental or psychological counseling consortium with many patients might have more resources, and may therefore opt for on-premises Internet telephony. Regardless of the method of deployment, the solution has to be reliable, and a perfect fit for the practice. For example, emergency clinics that experience high call volumes will definitely need multiple lines. A softphone that sits on the desktop can help administrative staff stay organized, and dial out to existing contacts with the click of a mouse, or listen to a voicemail on the computer while performing other tasks.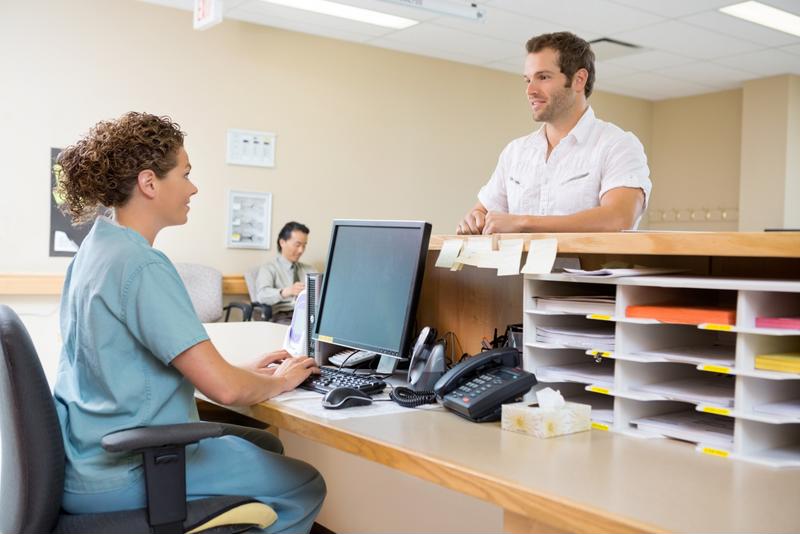 Mobility for large facilities
Internet telephony is just as important for large facilities, especially hospitals with multiple wings that serve hundreds or even thousands of patients on a daily basis. Unified communications solutions should also accommodate mobility so as to keep nurses and doctors connected while they move through the frenetic corridors of the emergency wing – or as they respond to calls from in-patient recovery floors.
Mobile VoIP solutions allow medical professionals to contact one another via tablets and smartphones, both of which are becoming more prevalent in hospitals as tools for pulling up patient data on the spot. This falls in line with the increasing focus on mobile-first solutions at the consumer and organization levels. More importantly, mobile unified communications in hospitals and recovery facilities may improve communication between nurses, interns and doctors. Greater cohesion between medical teams fosters a higher-functioning environment, and this may improve turnover rates for in-patient care.
Telemedicine
"Telehealth can expedite simple processes such as refilling prescriptions."
Another valuable use case for unified communication emerges from the trend of telehealth technology. According to a recent study by the University of Missouri-Columbia, patients and providers are satisfied with the early results of video-based health care.The ability to communicate with medical professionals remotely is hugely important in rural regions and other underserved geographies.
On a day-to-day basis, telehealth can expedite simple processes such as refilling prescriptions, which in some cases may require little more than a phone call. Similarly, easily diagnosed ailments like the common cold or pink eye or non-threatening symptoms can be evaluated via video conference in half the time that it would take a patient to drive to the office.
Telemedicine enabled by unified communications technology can also reduce the amount of time patients spend in the hospital following a medical procedure. Remote monitoring technology can help doctors and nurses keep a close eye on patient vital signs for those who prefer to recover in the comfort of their own homes. VoIP, video conferencing and other communication portals can be leveraged as needed.
As long as medical professionals and patients continue to benefit from unified communications, business communication technology will play an important role in making people healthy again.